'Batman Tunnel' Ascot home fetches record price
'Batman Tunnel' Ascot home fetches record price
An Ascot, Brisbane, home that attracted global headlines for its 50-metre 'Batman'-style entrance tunnel, has fetched a record price for the suburb.
The Ascot, Brisbane, home that attracted global headlines for its 50-metre 'Batman'-like entrance tunnel has sold for a record price per square metre for the suburb.
The sale price can not be disclosed but is said to be between between $8.3 million and $10 million, and was achieved after the property was on the market for only 34 days. The sale was the highest price recorded in Ascot in the last 2.5 years.
The six-storey home at 128 Crosby Road, Ascot, has a concrete tunnel that extends from the street to an underground carpark which is capable of holding ten cars. The tunnel is an engineering feat, and took months of excavating work to build.
The Crosby Road home was owned by builder Brett Walker, who took 30 months to build the residence, which features, as well as the 'Batman tunnel', beautiful views from Moreton Bay through to Mt Coot-tha, six bedrooms, six bathrooms, a cinema, a billiards room, a zen room, a wine cellar, and two laundries.
The property was covered by international media, appearing in the New York Financial Times, Mansion Global, and the Daily Mail UK.
Related content: Ultra-modern Brisbane home with concrete tunnel entrance for sale
Tyson Clarke of Queensland Sotheby's International Realty said the property received enquiries from as far afield as Sydney, Melbourne, London, New York, Toronto, Hong Kong and Singapore.
More than 90 groups inspected the home and there were 23 private inspections, he said.
"There is a real shortage of prestige property available and buyers at the top end of this market between $4 million and $10 million," he said. 
This property is "the perfrect opportunity for off-market private transactions and securing of top dollar prices," he said.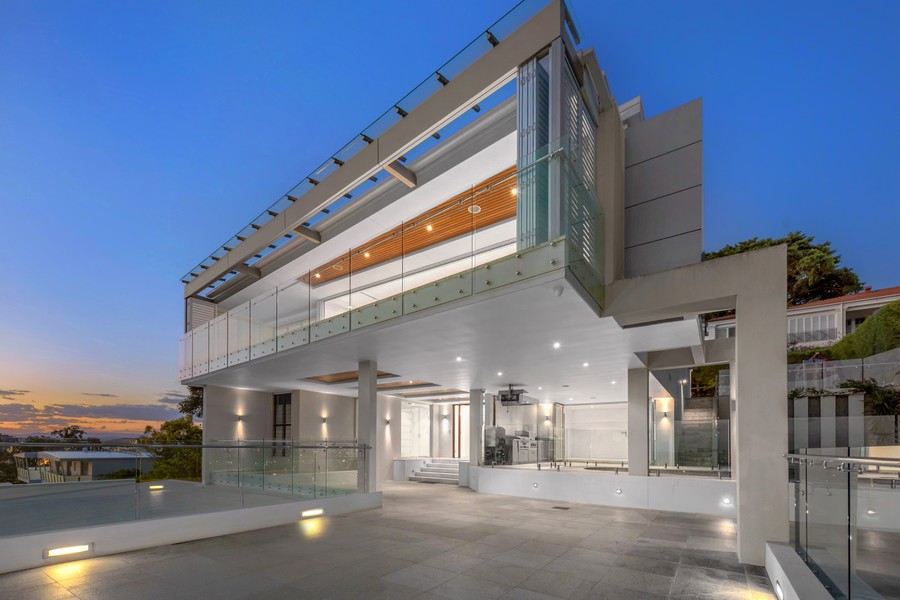 Image: Sotheby's.
The sale eclipses that of 26 Mayfield Street, Ascot, which sold last month and was listed for expressions of interest in the range of $7.5 million to $8.5 million, and that of the $8.3 million sale for 24 Palm Avenue, Ascot, which sold off-market in February, according to Sotheby's.
Vendor Brett Walker said, "The campaign and very quick sale speaks for itself, congrats to the entire team on a job well done."
View the listing for 128 Crosby Road, Ascot, on Luxury List.
Read more about Brisbane real estate:
Ultra-modern Brisbane home with concrete tunnel entrance for sale
Large Brisbane riverfront home with pontoon for sale
Contact Details:
Queensland Sotheby's International Realty
Queensland Sotheby's International Realty