Hobart leads price gains, but is still the nation's most affordable city
Hobart leads price gains, but is still the nation's most affordable city
Hobart's median dwelling price is $366,000, compared with Sydney's $850,000, according to the CoreLogic Home Value Index.
Across the country's capital cities, property prices rose 0.7% in January 2017 according to the CoreLogic Home Value Index.
The result was lower than the 1.4% result recorded in December, but up from the growth recorded in October and November.
Tim Lawless, CoreLogic head of research said, "The positive result was broad-based with every capital city (excluding Darwin) recording a rise in dwelling values over the month. The largest month-on-month gains were recorded in Hobart (+1.4%), Sydney (+1.0%) and Melbourne (+0.8%)."
Hobart also led the gains for the quarter, recording gains of 5.8%, well above the next strongest rise of 2.7%, which was recorded by Sydney.
Lawless said that Hobart's strong result is more than just normal market volatility.
"While the growth trend in smaller cities such as Hobart can show higher levels of volatility, clearly the Hobart housing market is now well into its growth cycle," he said, explaining prices are being driven by affordability relative to other cities, improving economic conditions, and strong levels of migration.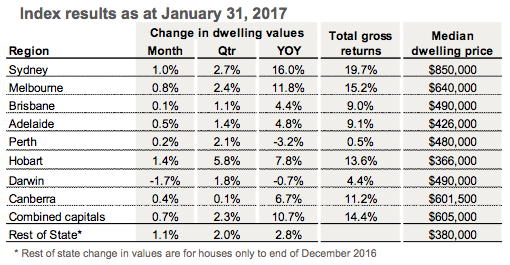 Source: CoreLogic.
The index shows that Sydney property prices rose an astonomical 16.0% for the year to the end of January.
Lawless said transaction volumes are ticking higher and sale times are down in Darwin and Perth, which could indicate the cycle has bottomed out there. However he said, "With economic and demographic conditions remaining weak in these markets, a recovery in dwelling values is likely to be a slow process."
Gross rental yields hit a record low across the combined capital cities of 3.2% for houses and 4.01% for apartments. But low yields don't appear to be deterring investors. The latest data from the Australian Bureau of Statistics shows investors made up 47% of the value of new mortgage demand. In New South Wales, investors accounted for 58% of new mortgage demand, and in Victoria, investors comprised 45.0% of new mortgage demand.
Lawless said the combination of low yields and strong levels of property investment suggest investors are banking on further price gains. "While rental yields plumb new lows, investment in the housing market has been consistently ratcheting higher which implies that investors are speculating on further capital gains in the housing market," he said.
See also:
A glimpse into a new success story in Niseko's real estate development