Australia 20th on Knight Frank Global House Price Index
Australia 20th on Knight Frank Global House Price Index
Australia has risen 17 places to 20th on Knight Frank's Global House Price Index, which measures mainstream residential property markets around the world.
Knight Frank's Global House Price Index for the March Quarter rose 5.3 per cent, the highest rate of growth in two years.
Australia jumped 17 places to 20th place on the index, boosted by booming price growth in the Sydney and Melbourne markets.
The 7.7 per cent annual growth recorded for Australia in the three months to March was more than double the 3.5 per cent increase recorded for the December quarter last year.
"The momentum in house price growth picked up in late 2016 for Sydney and Melbourne, and this flowed through to dominate the uptick in the national result," said Knight Frank's Australian head of residential research, Michelle Ciesielski. 
Key points:
Turkey occupied top place for annual growth with 13.9%
New Zealand recorded second place (13.5%)  
Iceland came in third for annual growth (12.9%)
Average US house prices now exceed their pre-financial crisis peak in 2006
House prices in China and Hong Kong have begun growing strongly again
Annual price growth reached double digits for 11 countries
Knight Frank attributes the strong growth to strong general economic growth, greater availability of mortgage financing in developing markets, and the reputation of property as a safe investment.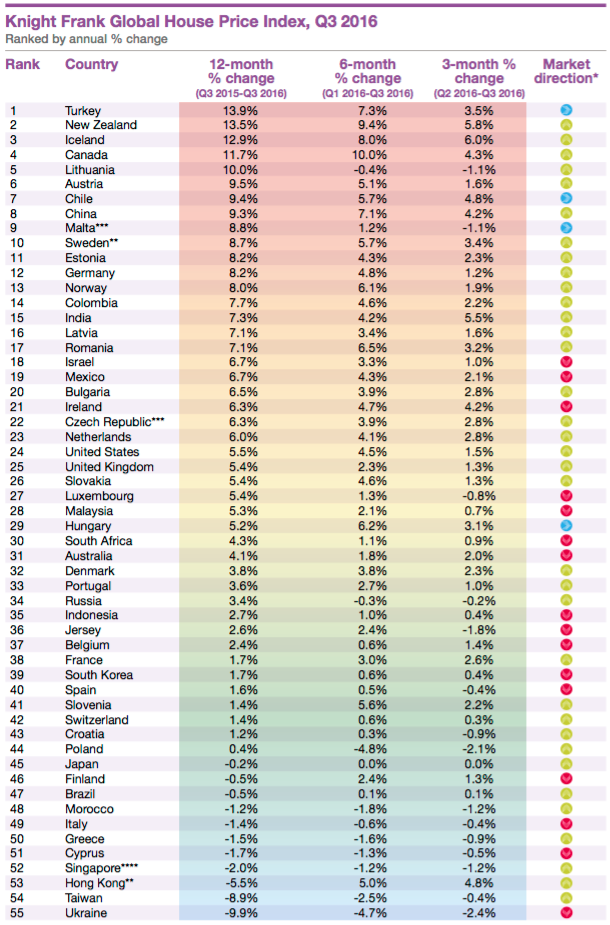 Source: Knight Frank Research.
The Knight Frank Global House Price Index allows property market watchers to monitor and compare the performance of mainstream residential markets around the world. The index is compiled quarterly, using official government statistics or central bank data. The index is weighted according to GDP on a purchasing power parity basis.
Click here to download Knight Frank's Global House Price Index report.
Read more about Knight Frank's global real estate research:
Knight Frank launches prestige homes division
Knight Frank Wealth Report shows Australia still mixing it with the best