Commentators are calling the bottom of the Perth market: Jody Fewster, ACTON Cottesloe
Commentators are calling the bottom of the Perth market: Jody Fewster, ACTON Cottesloe
Almost 40 per cent of suburbs across the Perth metropolitan region have a limited supply of houses for sale, according to new data from the REIWA.
"We're seeing a shortage of stock right across (Perth's) western suburbs," Jody Fewster, an agent with Acton Cottesloe, told SCHWARTZWILLIAMS.
Fewster said she is receiving two to three calls a day from hopeful buyers asking to be kept informed of new listings.
"I've never seen that before," she said.
These observations fit with new data from the REIWA, which shows that 40 per cent of suburbs across the Perth metropolitan area have a limited supply of houses for sale.
"There is very strong pent up demand," said Fewster
"Commentators are calling the bottom of the market," she said.
Hayden Groves, president of the REIWA, said analysis of 244* Perth suburbs found that 95 had limited choice for buyers.
He said, "1.3 per cent of the 818,000 properties across Perth are listed for sale, however when take a closer look, 95 suburbs have listing levels below this. While some of these suburbs have marginally less choice than the overall Perth average, others have significantly less."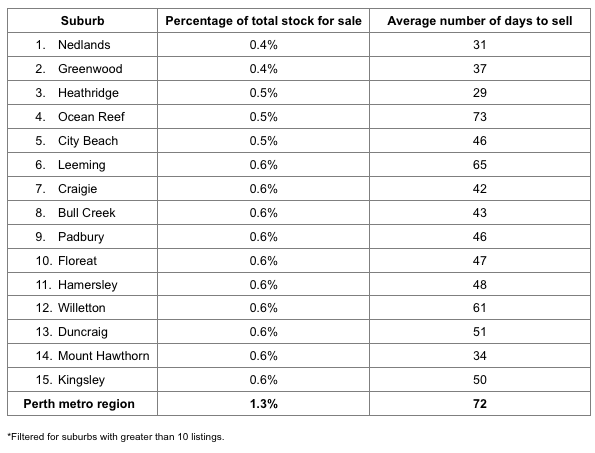 Source: REIWA.
Data from reiwa.com shows Nedlands and Greenwood are the most undersupplied suburbs in Perth, with just 0.4 per cent of housing in their respective areas available for sale. Heathridge, Ocean Reef and City Beach follow closely with 0.5 per cent.
Of the 95 undersupplied suburbs identified by the REIWA, 45 have less than one per cent of their homes for sale.
"The recent narrative surrounding the Perth property market is that we have abundant listing stock, but we have found that whilst some suburbs provide buyers with plentiful choice, a substantial proportion do not," Groves said.
Further analysis of Perth's 15 most undersupplied suburbs found all but one had significantly faster average selling days than the Perth average.
"Across the metro area, it takes 72 days to sell a home, but in Perth's undersupplied suburbs, buyers are snapping up properties in places like Heathridge, for example, in as quickly as 29 days.
"It's apparent there is stronger buyer demand in those suburbs with fewer listings," Groves said.
"Home owners in these undersupplied suburbs who are thinking of selling are in a very good position. With less stock to choose from, buyers have more competition, meaning there is a better chance for sellers to achieve a quicker sale at a competitive price in these markets."
Read more about Perth real estate:
The worst seems to be over for the Perth property market: REIWA
Perth real estate: "We should just hang in there" says David Arnold of Ethos Property