Melbourne's auction clearance rate holds below 70% for second week in a row
Melbourne's auction clearance rate holds below 70% for second week in a row
Melbourne's auction clearance rate is at its second consecutive week below 70 per cent, indicating the city's property market could be losing steam.
Melbourne has recorded its second consecutive week of clearance rates below 70 per cent, according to the latest numbers from CoreLogic.
The auction market "still seems to be very strong to me", Duncan McPherson of Nelson Alexander Coburg told SCHWARTZWILLIAMS.
McPherson said he had three auctions on the weekend, one property sold before auction, and the other two sold very well under competitive bidding.
Second-tier properties might have a more difficult time selling, he said, but "good properties, renovated or unrenovated, are doing really well."
McPherson said the Melbourne-wide clearance rate does not tell the story of individual areas. McPherson said he focuses on Melbourne's inner and northern suburbs, which are still selling very well.
Combined capital cities clearance rate
Across Australia's capital cities, 3,335 auctions were held, making last week the third busiest week for auctions so far this year. The preliminary clearance rate was 65.4 per cent.
This time last year, 2,987 homes were taken to auction and a clearance rate of 74.4 per cent was recorded.
Hobart
Tasmania's booming property market recorded another excellent result, recording the highest auction clearance rate in the country last week. Six of the state's seven auctions achieved a sale at auction, making a clearance rate of 85.7 per cent.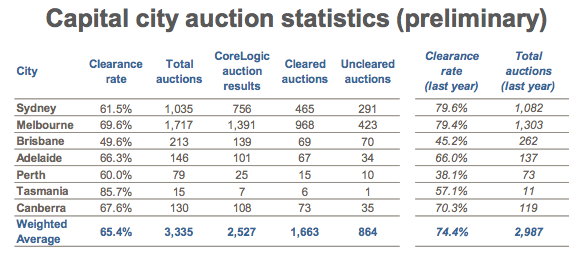 Sydney: spring slower than expected
Sydney's clearance rate has been below 60 per cent since the last week of October.
REINSW president, John Cunningham, told SCHWARTZWILLIAMS, that Sydney's spring selling season was turning out to be slower than expected.
"It appears that the Sydney spring market has taken on a slower pace this year, with reported auction clearance rates again showing around two-thirds of property selling at or before auction," he said. 
Cunningham said it was concerning that many agents were delaying reporting their auction results.
"The concerning figure for property sellers is the fact that we are also currently seeing only around 60 per cent of results being reported by Saturday night, compared with the traditional over 70 per cent reported levels of the past.
"This means that our initial view of the auction market is tainted and it is not until at least mid week that we see the true picture," he said.
Cunningham said it is "very clear" that many properties are being either withdrawn from auction or passed in.
"This is not necessarily a bad thing as there are three stages of an auction, before, at and after, so the result is simply longer days on market instead of the record low days we have seen in the past four years.
"Our current market is behaving the way markets in post boom phase always work when buyers take a take it or leave it approach," said Cunningham.
Read more about auction markets:
Melbourne property market showing signs of slowing
Canberra records nation's highest auction clearance rate