Get to know Jordan Culham, finalist in the 2017 Schools Auctioneering Championship
Get to know Jordan Culham, finalist in the 2017 Schools Auctioneering Championship
Before competing in the 2017 Schools Auctioneering Championships, Jordan Culham knew little about the industry. But after competing at a national level, Culham is considering auctioneering as a career.
Jordan Culham knew little about auctioneering before putting his hand up to compete in the Schools Auctioneering Competition through the REIV.
With help from a dedicated team at Woodards Blackburn, including former Auctioneering Champions and professional auctioneers, and after spending weekends watching live auctions by some of Melbourne's best performers, Culham succeeded in gaining a place in the 2017 Schools Auctioneering Championships held in Adelaide earlier this month.
Other finalists were: the winner, Andre Briffa from Tasmania; Bailee Ha, winner of the encouragement award; Amy-lee Hay; and Jake Tanner. Ha, Hay and Tanner are all from South Australia.
Related content: Get to know Andre Briffa, winner of the 2017 Schools Auctioneering Championship
Related content: Get to know Bailee Ha, winner of the encouragement award at the 2017 Schools Auctioneering Championship
Culham spoke to SCHWARTZWILLIAMS about his preparation for the event, and about his interest in auctioneering as a profession.
How did you first get interested in auctioneering?
A family member working in the industry encouraged me to enter the competition, particularly as I hadn't decided on what I wanted to do once I finish school later this year.
Prior to that, I had never seen an auction conducted and I thought the competition would provide me with an insight into what a career in real estate would entail. I also think the skills of an auctioneer can be applied to a range of different professions.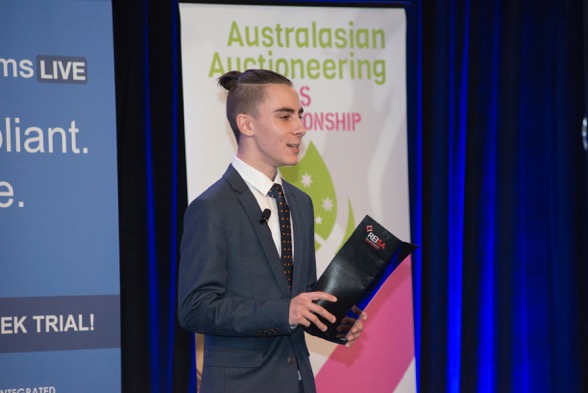 Image: Jordan Culham competes in the 2017 Schools Auctioneering Championships.
How did you prepare for the competition?
I attended weekly mentoring sessions with Woodards Blackburn, mainly practicing with former REIV Novice Auctioneer of the Year, Luke Banitsiotis. Director Cameron Way also assisted in preparing me for the competition.
On the weekends I did my own research, attending auctions being conducted by well-respected auctioneers in some of Melbourne's most exclusive suburbs.
The night before the Australasians, Andy Choi from Area Specialists worked with me for four hours to ensure I was prepared for the following day's competition.
What was the highlight of the event for you?
Meeting all the auctioneers was a definite highlight, as well as challenging myself in a situation which was so far removed from the traditional school environment.
In the past I had avoided public speaking but Luke, Cameron and Andy really encouraged me to embrace the cheekiness of my personality, especially when extracting bids.
Do you hope to pursue a career as an auctioneer?
After my experience in the competition I have realised how much I enjoy it and could definitely see myself working as an auctioneer in the future.
How the Schools Auctioneering Championship works
Competitors in the Schools Auctioneering Championship had to succeed in their REI state competitions to earn the right to compete at the national level. 
"It was fantastic to see the students strut their stuff across the stage," said Greg Troughton, CEO of the REISA.
"All their schools should be proud of their talented young students," he said.
Competing in next year's event
If schools or students are interested in taking part in the 2018 Schools Auctioneering event, they can contact their state or territory Real Estate Institute. Details are below.
REIACT
(02) 6282 4544
REINT
(08) 8981 8905
REIWA
(08) 9380 8222
REISA
(08) 8366 4300
REIV
(03) 9205 6666
REIT
(03) 6223 4769
REINSW
(02) 9264 2343
REIQ
(07) 3249 7347
Visit the 2017 Australasian Auctioneering Championships web site.
Next year's Australasian Auctioneering Championship will be held in New Zealand, hosted by the Real Estate Institute of New Zealand.
Read more about the 2017 Australasian Auctioneering Champtionship:
Get to know Andre Briffa, winner of the 2017 Schools Auctioneering Championship
Get to know Amy-lee Hay, finalist in the 2017 Schools Auctioneering Championship
Winner of the 2017 Australasian Auctioneering Championships is Justin Nickerson