Vaucluse vendor makes over $1 million in 13 months
Vaucluse vendor makes over $1 million in 13 months
Limited stock in Sydney's eastern suburbs means prices are still rising rapidly, says James Nixon of Belle Property Double Bay.

James Nixon, sales associate with Belle Property Double Bay, told SCHWARTZWILLIAMS a lack of stock in Sydney's eastern suburbs continues to drive prices higher and generate strong interest when good properties come to market.
Last week, Nixon sold a five-bedroom house at 11 Cambridge Avenue, Vaucluse for $5.9 million.
The vendor had only settled on the house, which he bought in the high $4 millions, 13 months ago, said Nixon.
"We had 90 inspections for the house," said Nixon. There were two bidders at the auction.
Nixon said that about 80 per cent of the people that inspected the Vaucluse house would have preferred to be buying close to the city, for example in Bellevue Hill.
But because there is so little stock on the market in Sydney's eastern suburbs, buyers are beginning to look further afield than their first choice of suburb, said Nixon.
Vendors holding off until after the school holidays
Nixon said he hopes volumes will pick up after the school holidays.
Anxious buyers keen to purchase before auction
There has been a trend of buyers snapping up properties before auction in the eastern suburbs, said Nixon.
"Buyers are being aggressive wanting to secure (a property) before auction," he said.
Auction clearance rates up from last week, down from last year
REINSW deputy president Leanne Pilkington, told SCHWARTZWILLIAMS, "Both clearance rates and auction numbers were up over last week, and there were almost 100 more auctions this weekend than the same time last years, which is good news for buyers."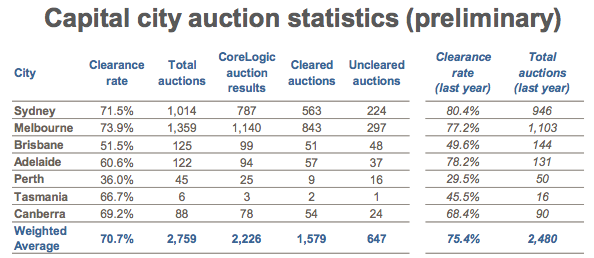 Source: CoreLogic.
"The preliminary clearance rate is hovering a little about 70%, but parts of Sydney achieved clearance rates in the mid-80's which means there is still strong underlying demand," she said.
In Sydney's eastern suburbs, the clearance rate was 81.2 per cent, according to the CoreLogic data.
Victoria's auctions swayed by footy fever
REIV president Joseph Walton told SCHWARTZWILLIAMS there were 987 auctions last week, with a preliminary clearance rate of 75 per cent. 
"Melbourne's market performed strongly this weekend as a high number of vendors sought to sell their homes before the grand final long weekend," he said.
"Auction volumes will give way to footy fever in the coming week with just 50 homes set to go under the hammer. Volumes are set to bounce back strongly the following weekend when close to 900 homes will be auctioned."
Walton said 3,800 auctions have been held in September this year, the second highest number, behind 2015 when 4,220 homes were auctioned.
The most expensive property sold on the weekend was two allotments with plans and permits ready for development. The site sold for $4,360,000.
Read more about Sydney and Melbourne real estate:
Why is Melbourne's property market outpacing Sydney's?
Sydney's eastern suburbs "back to a normal market": Alexander Phillips, PPDRE
Sydney market headed for "a few years of flat capital growth": REINSW
Contact Details:
Belle Property Double Bay