Melbourne achieves record autumn auctions
Melbourne achieves record autumn auctions
While temperatures cooled across Melbourne, the city's auction market remained hot, with more homes sold at auction than during any other autumn.

New data from the REIV shows that while autumn temperatures cooled this year, the Melbourne auction market remained hot, with more than 9,160 homes selling at auction between 1 March and 31 May - more than during any other autumn.
The total is a 7.6 per cent increase on the previous autumn record, which was set back in autumn 2015 when 8,517 homes sold under the hammer.
REIV President Joseph Walton said much of the action happened in Melbourne's north.
"Reservoir and Craigieburn experienced the strongest results under the hammer this autumn, with 138 and 116 sales respectively," he said.
"Despite these suburbs occupying vastly different price points in the market, both recorded autumn clearance rates of more than 84 per cent." 
More than 100 homes also sold under the hammer in Mount Waverley and Glen Waverley, while 97 homes sold in Epping over the autumn, and 89 sold in both Kew and Preston. 
Walton said outer Melbourne saw a significant increase in the level of auction activity. 
Werribee, in Melbourne's outer suburbs, recorded the highest growth in auction sales with 52 homes selling under the hammer in the autumn, up from just five for the same period last year. 
Hoppers Crossing also experienced a significant increase in auction transactions with 83 sales, up from 15 last autumn.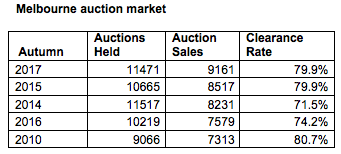 Source: REIV.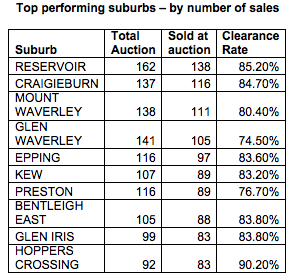 Source: REIV.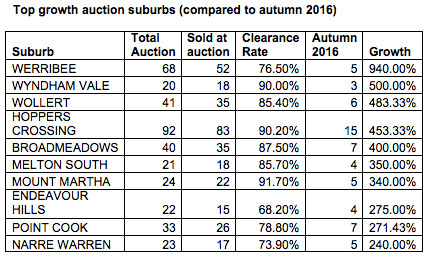 Source: REIV.
Read more about Melbourne's property market:
Buyers not deterred by long weekend, as strong sales continue
Melbourne's most affordable suburbs