Murrumbidgee property nation's top performer over 20 years
Murrumbidgee property nation's top performer over 20 years
Over 20 years, it's not Sydney's exclusive Woollahra or Melbourne's upmarket Stonnington councils that have achieved the strongest growth in property prices, but the fertile agricultural region in southern NSW of the Murrumbidgee Council, according to a new report by CoreLogic.
Image: nationalparks.gov.au.
In the 20 years to December 2016, the median selling prices of houses in Australia increased at a compound annual rate of 7.2%, according to the latest data from CoreLogic.
Over ten years, on average, Australian property prices doubled.  
While the national growth rate is strong, the rate of growth has varied dramatically from region to region.
The table below shows that property in the Murrumbidgee Council area recorded 13.0% compound annual growth in median house prices over the last 20 years, the biggest increase in the country.
The data shows that councils in Sydney and Melbourne metropolitan areas also performed well, as expected.
And it must be noted that the median house price in the Murrumbidgee Council is coming from a low base, with a median house price as at 20 December 2016 of $167,000. This compares with Stonnington's median house price of $1.8 million, and Sydney's Waverley council's median house price of $2.6 million.
Source: CoreLogic. (Note: data for the Northern Territory was not available for 20 years, so CoreLogic excluded it from the analysis.)
Isaac, which is in the coal-mining heartland of Queensland's Bowen Basin, came second place. It is worth noting that property prices in this region have fallen by -22.4% per annum over the last five years as the mining boom unravelled.  
The table below highlights the 25 councils that saw the lowest annual increases in median house prices over the past 25 years. None of these council areas are in a capital city, highlighting divergence, in general, between the property prices in capital cities and regional areas.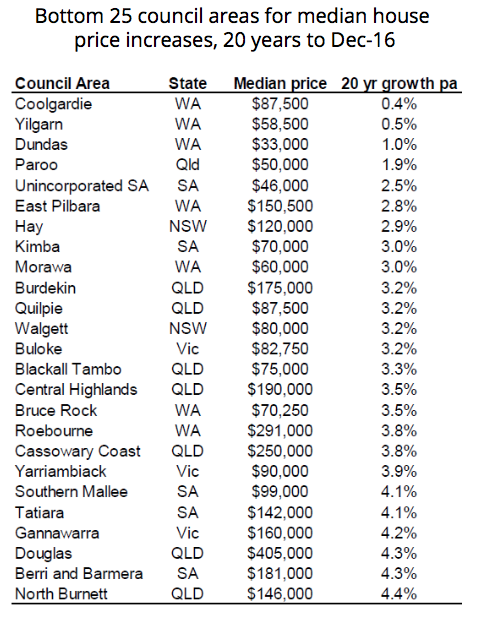 See also:
Property prices at cyclical high: CoreLogic
How to invest in property, by the numbers