Tasmanian real estate on a high
Tasmanian real estate on a high
Tasmanian real estate sales were at a seven-year high at the end of 2016, according to the The Real Estate Institute of Tasmania's December Quarterly Report.

The Real Estate Institute of Tasmania's December Quarterly Report confirmed that Tasmanian real estate ended 2016 on a high. 
The state recorded 9,793 residential property sales in 2016, the highest in seven years. Sales were worth a total $3.1 billion, more than the previous high set in 2009.
Tasmanian real estate is reaping the benefits of a buoyant local economy, a positive political environment, strong consumer sentiment, growing business confidence, and low interest rates, according to the REIT.
The state's affordable housing and relaxed lifestyle is increasingly an appealing alternative to the larger mainland cities where affordability, crowding, and poor infrastructure are growing problems.
A strong December quarter meant the year finished off well. Hobart recorded 592 house sales for the quarter, which accounted for 33.6 per cent of all house sales and 54.2 per cent of unit sales.

Source: REIT.

Source: REIT.
Hobart's median house price increased 9.7 per cent for the year to $430,000.
Price growth was strongest in inner Hobart, where the median house price rose 14.3% for the year to December to $600,000. Apartment prices in inner Hobart were up 12.1% for the year to $370,000.

Source: REIT.
Interstate buyers increased significantly during the December quarter from 288 in the September quarter, to 332. Interstate buyers tended to buy in Launceston and the North West. 
Tasmania only only recorded eight overseas buyer transactions during the quarter.
First-home buyers acquired 1,225 properties, with 876 buying established homes, and 134 buying units. The remaining 215 purchased land.
The number of properties for sale in many areas is down more than 30% on previous years, putting pressure on the market and increasing prices.
Investors purchased 1,870 properties at a median price of $235,000 during the quarter. Two thirds of investors are local Tasmanians, according to the REIT.
Tental returns are some of the best and most consistent around the country, with 4-6% yield. Some investors have turned their rental properties into airBNBs, said the REIT report, which could be contributing to a shortage of long to medium-term rental accommodation.
REIT President Tony Collidge said the Tassie market has gone from strength to strength over the last two years.
"The past two years have seen a significant increase in confidence and sales across all areas and regions in our market," he said. 
"We continue to rebound with strong demand for both residential and rental property."
Collidge said he expects the strong conditions to remain.
"I have no reason to see a change in our market conditions. Whilst there remains a shortage of properties for sale and to rent, prices will continue to increase as demand dictates," he said. 
Tasmania is increasingly being sought for its affordable lifestyle.
"Much of the state still provides some of the best and most affordable housing in the country," said Collidge. 
"Interstate purchasers are now seriously looking at Tasmania as a place where they would like to invest and to live."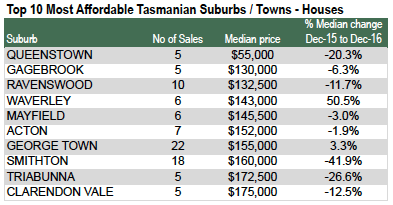 Source: REIT.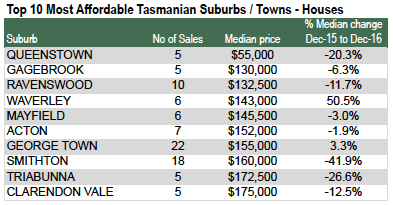 Source: REIT.
See also:
Hobart leads price gains, but is still the nation's most affordable city